So, it was off to do the signing bit. There was a sort of makeshift corridor of trestles and false walls, with authors scribbling and giggling with queues of fans and bloggers. I was lucky enough to find myself placed next to Bryony Pearce, who I've bantered a bit with on Twitter but, until that point, had never met. She was sporting a fantastic Firefly costume, which looked a little warm in the heat of Earl's Court, but I'm pleased to report that she was as lovely in Real Life as she is in the Twitterverse. We gushed a bit about who we'd met and the  she happened to mention that the tall chap next to her was Jonathan Stroud.
Let's just say I'm a fan. I love the Bartimaeus books and couldn't finish the first of the Lockwoods because it scared me too much. Having not had the bottle to have a moustache-off with the Great John Hurt or pat Carrie Fisher's dog, I decided to step-up to the mark and say hallo.
Like one of my other heroes, Philip Reeve, Jonathan is kind of what you want a writer to be: well-spoken, unassuming and sort of quintessentially English. Not a short twit in a Marvel shirt making a bit too much noise. Jonathan and his family were lovely and I found myself wishing I'd brought the Amulet of Samarkand with me, so he might sign it for me. Hopefully, there'll be other times.
Darran Stobbart appeared out of the crowd. I'd met Darran briefly once before, at the Waterstone's Book Prize, when Geekhood was on the shortlist. Although it'd only been a short hallo, I took to him very quickly and we've Twittered at each other a lot over the last couple of years. So, I hauled him over the table to come and sit in with me. I'm told that when I nipped to the loo, he actually signed a book, pretending to be me! I do hope this is true…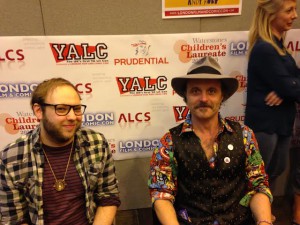 And then Jesse Owen appeared. I've said it before, but I'll say it again: Jesse might appear to be a bit shy but, once he gets warmed-up, he's a hoot. According to him, he doesn't get out much, but I think he's lying. In fact, I'd like to issue a challenge to anyone living in the Bristol area: if you see Jesse out and about, Tweet me a photo. I intend to disprove his theory that he's a shy bunny with an online "Where's Jesse?" photo campaign. Go on, do it. Here's one of him with people, proving he LIES!!!
There were so many bloggers there that I'm hard-pressed to remember exactly who I met, but I remember being enthusiastically halloed by Blondie Camps, grinned at by Charli and laughing a lot with Books Bandit who was generous enough to forgive me when I thought she was someone else with the same name. And of, course, the ever-lovely Laura Heath was there, running in around in a hat not dissimilar from mine. I like to think I may have helped shape her blossoming fashion-sense.
If I met you, but haven't mentioned you, I apologise – but it was busy.
I tell you what – if you RT this, then feel free to stick your name in this sentence:
And a real highlight was meeting……….
Hope that gets me out of trouble.
All too soon the signing was over and it was back to the Green Room to goggle at more famous folk and wish I had more guts to go and talk to them.
I don't know how long I was there but, eventually, my body decided it was time to eat, so I snuck off for some food, before returning for the Post Gig Party.
The thing with publishing people, from fans and bloggers to publicists and authors is that everyone just seems lovely, like we're all part of some Big Club and we all look out for each other. At the do, I saw Paul Black, who was looking after Patrick Ness. I love Paul. Not only is he consummately brilliant at his job, he's got one of the most instantly-engaging personalities in anyone I've ever met. He's funny and caring and an all-round good egg. It was a pleasure to see him. It always is.
Dave Cousins said hallo and I saw Sarwat Chadda being very tall, but I was starting to flag. Malorie Blackman made a touching speech and there was lots of clapping and a group photo, but I was done. Shortly after that, I said my farewells and made my way back to my car.
The YALC was brilliant and everyone should be proud of it as an achievement. I've seen some stuff on Twitter about its imperfections – some of which I agree with – but I think it's worth bearing in mind that this was the First One. Even LFCC had to start somewhere and I bet that first foray wasn't the well-oiled machine it is today. The important thing is that it happened at all; details can be ironed-out with the benefit of 20/20 hindsight but, for me, it's enough to say that I was there and I was part of it.
And so were you.