I'm a fan of loads of people and I hate it when they don't write back. If you've got any questions or something to say, post it up here and I'll do my damnedest to reply as soon as I can.
I've visited numerous schools and libraries across the country and appeared at many festival events.  If you want to book me for an event, leave me a comment below and I'll get in touch as soon as possible. Bear in mind that I'm happy to take budgetary constraints into consideration.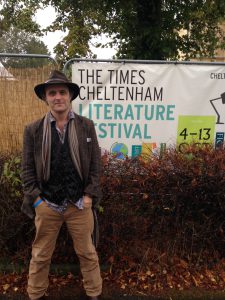 It's all very well me telling you how great I think I am at events, but you want to know what other people think:
My son loved the visit and has been telling us all about it. He said he was so interesting he could have listened to him all day.
"Andy Robb was brilliant. He engaged the students (yr7 and 8) from the very start. He started by getting the students to ask him questions which led to students having their hands up and down all through the 45 minutes he spoke. He shared some of his own socially awkward teenage moments and asked the students to suggest different scenarios, this resulted in roars of laughter.
The students are still talking about the 'author visit' two months after he came – testimony to his connection with the students.
If you want to make students realise that reading is a fun thing to do, book Andy Robb!!" K Ullman, Trinity School, Berkshire.
"Thank you so much for coming to our school. Your talk to our Year 7's was interesting, energetic, engaging and very funny. The students have continued to talk enthusiastically about you and your books are flying off the shelf in the library. The visit was a great success – both staff and students had a wonderful time and we can't wait to have you back to talk about your new book. I would be happy to recommend you to other schools for similar events." S Fox, Librarian, Easthampstead Park Community School
"You made everyone laugh, until the tears went down their cheeks" Julia, pupil.
"Hi Andy, just wanted to say a huge thanks for the visit to our school last week. The students enjoyed listening to you and you dealt with the questions really well. Hugely entertaining!" E Bolton, teacher, Northumberland Park Community School.
"Your talk at my school today was fantastic – one of, if not the, best author events I've seen in my book-filled years. We all enjoyed it so much, we're trying to persuade the school to drag you back!" Abi, pupil.
.