Being tagged for The Next Big Thing blog-relay is both an honour and riddled with serendipity. When Louise Gibney tagged me for this malarkey, one of the criteria was that I had to have a book in the pipeline. Which, as it happens, I do and the spanky new cover was released on Twitter only a few days ago. Have a look: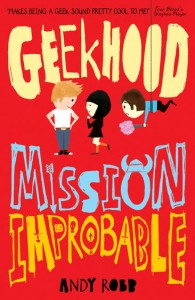 One of the other criteria was that I give my tagger a little nod and I can cheerfully say that I'm delighted to do so. I chat with Louise on Twitter (@MissWriteUK in case you're interested) and, if her Next Big Thing Blog is anything to go by, then her next book, Scrabble Pieces, should be an insightful study into how people deal with grief. So,  thanks to Louise (www.misswrite.co.uk) for helping me get my head together and making me answer the following questions:
What is the working title of your next book?
I'm pleased to say that it's an actual title, now: Geekhood: Mission Improbable. Which is a bit less of a mouthful than the other one!
Where did the idea for the book come from?
I'm going to have to be a bit cryptic here, because it's still very much in the edit stage. But, I can say that it's something I really wanted to do as a teenager, but couldn't. It's a natural progression from the RPGs in Book One and I had to do some research, which opened my eyes to an aspect of life that I hadn't really considered. All will become clear in April 2013…
What genre does your book fall under?
That's an interesting one and one I was chatting through with the Stripes Publicist, Katie, the other day. She says that when she approaches bookshops, she categorises it as 'humour'. Which is weird, because I didn't set to write it as a 'funny' book; it's just a peek inside the head of a 14 year-old. But I guess they can befunny places. One Amazon  review described it as a 'self-help book,' which is also weird because, although I had things I wanted to say through the story, it wasn't with any grand ideas that I could solve any problems for anyone. If I was going to categorise it, I'd invent one, like 'Human Interest' or something. I don't know. I love the fact that people find it funny and that they take something from it; that's more than enough for me.
Which actors would you choose to play your characters in a movie rendition?
Now that would be telling! I kind of don't want to say, because I want everyone to create their own Archies, Matts, Beggsys and Ravis in their heads, so they get to own them. Once you've identified an actor as a character, then it's like that ownership's gone. I know who I think Archie looks like in my head, but that's no more valid than who he looks like in other people's heads and I think it should stay that way.
What is the one-sentence synopsis of your book?
It's Geekier than the last one.
Will your book be self-published or represented by an agency?
The lovely folk at Stripes Books must take the credit for this one. I've never self-published, so I can't even begin to comment. But, for me, having grown-ups on the end of the phone is a very reassuring thing. And things like seeing the new cover is a great surprise. It's always interesting to see howother people visualise what you're on about.
How long did it take you to write the first draft of your manuscript?
About eight months, I think. My first draft is always a bit of a sprawler, rammed with all the ideas I've got. Second draft is where you work out what the good ones are!
What other books would you compare this story to in your genre?
I wouldn't, because I think that'd be a bit presumptuous of me. But some lovely people have; have a look on the inside cover of Book One and you'll see.
Who or what inspired you to write this book?
Everything I do is inspired by my son. Sounds slushy, I know, but it really is as simple as that. I think I wanted to leave him something that he could read and swim around in my head a bit.
What else about your book might pique the reader's interest?
I can't say too much, but there are three scenes that I know boys will relate to, in a horribly cringy way. And I hope it gives girls a bit of an idea that we don't have it that easy in our teens; not as easy as you're led to believe.
Phew! There we go – questions done. Now I've got to pass the blog-baton onto some authors I like, soI'm going to tag them without asking their permission and see what happens. These folk will hopefully tell you about their Next Big Thing:
Philip Reeve: some sort of god in tweed. (Goblins)
Sarwat Chadda: a Geek after my own heart. (Ash Mistry)
Curtis Jobling: simply irresistible. (Wereworld)
Guy Bass: a man with an obsession with his pants.(Stitch Head)
Andy Briggs: a top chap who does dangerous research. (Tarzan)
Right – back to the edits! Thanks again to Louise for getting me in on this and Geeky Greetings to all that have read Geekhood and those that are about to.
Andy