When I woke up this morning, on St Valentine's Day, 2013, there was one thing and one thing only on my mind…
The new toilet pump I'd ordered for my boat.
You see, living on a boat has it's own problems and when your toilet starts making funny noises, you know that something needs replacing and, a couple of days ago, I ordered that vital part. So, when I bounced out of bed, I was all excited at the prospect of getting my Gentleman's Excuse Me all ready and working again.
And then I went on Twitter.
And then I saw that my little yellow book had somehow found itself on the shortlist for the Waterstones Children's Book Proze, 2013.
And then this went through my head – with roughly the same exppression as you can see :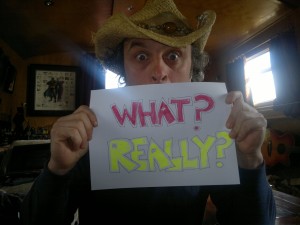 As you can see, I handled it with my usual Bond-like calm. Once I'd tidied up the resulting mess – I'm not going to lie – I checked out who else is on the list aka 'The Competition'. Wow. There's a bunch of stunning books. Like really big, beautiful, books. And somehow, mine's rubbing shoulders with them.
Cooooool.
When I set out writing the thing, I was – and still am – blissfully ignorant of stuff like this. I was just grateful and chuffed that someone had thought it might be worth putting into print. Getting this far in the Waterstones Prize is incredibly humbling – I like my book, but it didn't mean anyone else had to.
So, I guess there are many, many thanks to be thrown out to people for helping me get this far: Jenny, my agent, Jane and the Stripes team, the bloggers, reviewers and readers who've all shown their support and, of course, everyone at Waterstones for looking kindly on my little tome.
I wish EVERYONE on the list the very best of luck and I can only hope that they're as excited as I am.
See you at the ceremony, luv!
Right – off to fix me loo.