This blog has been written to show support for an Author of Might: Tommy Donbavand. In March 2016, Tommy was diagnosed with cancer and the bell rang for the fight of his life! Rather than lie down and take a battering, Tommy's been slugging it out with the Big C and has posted almost every aspect of his battle on his website. I'm not a great reader of blogs, but this one is superb: funny, moving – the whole shooting match. If you haven't read it yet, I urge you to. You'll find it at: http://www.tommyvcancer.com/
Tommy's a well-established author, having written the Scream Street series – which is also an animated show on CBBC. But there's something else about this Man of Many Talents; something that I wanted to write about, because it always has been – and continues to be – a big part of my life.
*drum roll*
Tommy writes the Bash Street Kids strips for The Beano!
How My Bad Teeth Introduced Me to The Beano
I can clearly remember the first time I saw a Beano and The Bash Street Kids. I was born without any enamel on my teeth, which meant endless trips to the dentist. In the middle of the room was a huge, round table that bore a pile of magazines and newspapers: loads of boring stuff for grown-ups. I always had a root through, in case there was something interesting in there, but was always disappointed. Until one, particular day…
I'd never seen The Beano before. I can remember the big red and yellow lettering and the black scrap-cloud that announced that there was somebody called Dennis the Menace involved, with someone called Gnasher involved. I started reading.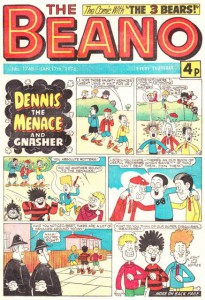 Meeting The Bash Street Kids for The First Time
Once I'd made it to the centre pages, there was a strip called The Bash Street Kids. If memory serves, this was before they were able to use full colour and everything was rendered in black, white and varying shades of orange – and if you looked closely you could even see the little dots of ink that made up the blocks of colour. But there they were: Dany, Smiffy, Plug, Sidney, Toots, Spotty, Wilfrid, Fatty and 'Erbert – all trying to dodge, prank and fight their ways through another boring school day – watched by the thin, mortar-board-wearing Teacher.
Already a fan of Just William, this was right up my (Bash) street. William and the Outlaws were great – but here, I had nine little rebels to read about, each with their own distinct personality and forever trying to undermine the rules and regulations set by Bash Street School. There was a paper-shop on the way home and I begged my mum to take me in, to see if I could find a Beano. I did and every Thursday after that, a portion of my 10p pocket-money was set aside for buying a copy. Thursday became Beano Day – for the rest of my life.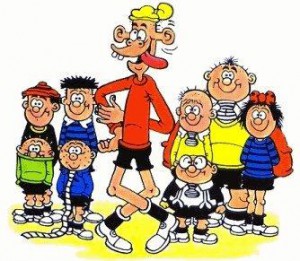 My Failed Attempt at Comics
I love reading Tommy's Bash Street stories. On the face of it, writing a comic-strip looks simple, but it isn't – years ago, me and a mate wrote a graphic novel, which was bloody awful. What really let it down was the story: you can't have great artwork, if the story's rotten.
Comics are a huge and important part of getting kids reading and there's much more to them than interesting artwork. My son was introduced to the Beano almost as soon as he could read and, years later, we still sit down on a Thursday and chuckle over the antics of our favourite characters. Mine's Smiffy – I know Tommy is a big Plug fan – but I love Smiffy's cheerful insanity.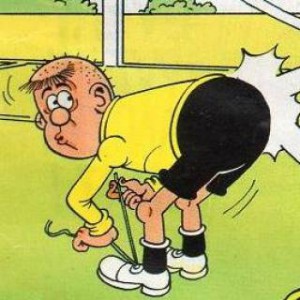 A Mountain of Sausage and Mash
It might sound daft, but I'm always amazed at the way Tommy treats the Bash Street Kids. These are iconic characters that feel as though they've been around since time began and Beano readers don't just identify with them – they know them – so any deviation from the character just isn't going to cut the mustard. I've been reading Tommy's work for a while, now and you can almost feel his fondness for the Kids, the school and the strip itself. Put it this way: as a comic-reader, you know when someone's tinkering with the lore and laws of your favourite characters – it just doesn't feel right. I've never read a Bash Street by Tommy and felt something was out of place: it's the Kids, as I know and love them and each time I read what they're up to, I'm six years old, having found a ray of hope in a dentist's waiting room.
Keep fighting, Tommy! I hope to see photos of you tucking into a Beano-style pile of sausage and mash, in the Not Too Distant.