On March the 7th, at approximately 7.50pm, I was reminded why I love Sarwat Chadda so much. Picture the scene: there I am, hosting the inaugural UKYABA ceremony and I remember, mere seconds before I announce an award, that the publishers sponsoring it aren't there.
Dizzy on adrenaline, I went through the available options:
1) Do it myself
2) Pick someone else to do it.
As the number two screamed through my head, I scanned the expectant faces of nominees, publishers and authors and there, nodding away to himself, was Sarwat Chadda. The perfect stand-in – although he didn't know it until about three seconds later.
My reasons for picking him might seem arbitrary on the face of it, but I have some history with old Sarwat and it all flew together, like filings to a magnet, to inform my choice.
The Force is with him
Sarwat is entirely responsible for my first ever launch party. The one with the stormtroopers.
When my first book, Geekhood: Close Encounters of the Girl Kind, came out, ARCs were sent out hither and thither – and one of them ended up on Chadda's lap. Bless him, he read it and even went so far as to offer up a quote that is on the inside page. If I remember rightly, I emailed him to thank him and we ended up in a virtual conversation about launch parties. As a first-time author, I didn't even know they existed but Sarwat convinced me it was a thing worth doing. Not only that, but he found me a venue and suggested we meet up, before accompanying me to bludgeon the managers into submission.
Meeting Sarwat is an experience. When we met, it was in a café in London and he was wearing a long, white coat that made him look like he'd just finished work in a laboratory. But the thing about him that struck me was that he treated me like he'd known me forever, even though we'd never met before. He was affable, talkative (with a capital T) and ridiculously enthusiastic about my book – not even bothering to refer to his formidable canon.
Of books. Titter ye not.
Without further ado, he swept me into Waterstones on Oxford Street and secured the venue with me and for me.
But that's only one of the reasons I love Sarwat Chadda.
The Show must Go on!
The next time I saw him in the flesh was at his home. By that point, I'd never been to the home of a proper author and it felt like I was being welcomed into his inner sanctum. That night, along with thee bewildered guests, we played a game of Deathwatch – which he masterminded with judicious glee. He acted out the parts of Orks and Dark Elves like it was: Sarwat Chadda – Live from the Palladium!
But it's not that, either.
All Decks Stand By
I think I discovered my fondness for Sarwar Chadda on reading his Ash Mistry books. For those of you that haven't, I suggest you do – they're epic, action-packed stories, based around the central figure of Ash: a geek who is forced to stand up and fight.
That's Sarwat.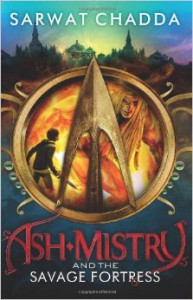 Sarwat is a geek to his teeth. His Facebook posts often regale his followers with his latest triumph or defeat in the world of role-playing games or his latest literary escapade. But, beneath the D20s and the dungeon-crawling, Sarwat – like Ash – is a fighter.
I've met plenty of actors – and authors – who will try and fluff you about what's happening next in their staccato careers – when we all know they're as subject to the whims and fancies of their chosen creative vocations as the rest of us.
Not The Chadda (as I've come to think of him)
The Chadda is as disarmingly honest about his troughs as he is about his peaks – and it's this, I think, that makes him the Constant Champion of the Underdog. Having been that underdog, I can reliably tell you that there's no-one better to have on your side. Like his character, Ash, he'll risk bringing his own world to its knees to make sure that yours gets a chance.
That's why, in that flash-hot second, I picked on him to help me out.
Sarwat's got some exciting stuff going on; if he's not on your radar – find that shaven-headed blip and tune into it.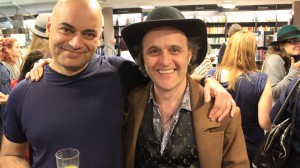 The Chadda is a proper gent and no mistake. Don't let his boat sail without you.