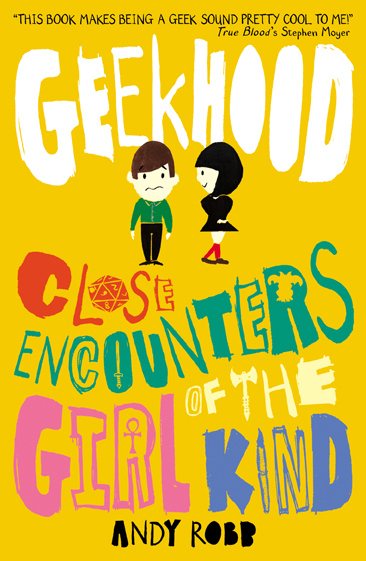 Fourteen-year-old Archie is a Geek to his core.
In the world of role-playing games, he's a Level 5 Mage, capable of summoning the Undead. In this world, things are rather different. With no rule book to navigate Life's Big Challenges – warring parents, a crass step-father, orc-like school bullies and crap hair – he's teetering on the brink…
Then a Beautiful Girl appears in his Geeky world… Despite the fact that the closest he's come to an encounter with a girl is painting an Elven miniature, Archie embarks on a Daring Quest to win her heart.
Geek meets girl … what could possibly go right?
On the face of it, Geekhood is about surviving divorce from the point of view from the people that are always stuck in the middle. My folks split up when I was 16; a bit older than Archie, so I had some experiences to draw from. While the nuts and bolts of Archie's parents' divorce are fiction, it's rooted in some reality. Part of what I wanted to communicate through the book, is that it is possible to get out alive.
If you've ever been through a divorce as a kid, it's not something you forget in a hurry. I remember being with my little sister, watching some kids programme on BBC1. Back in the day, Philip Schofield was a children's TV presenter and he used to link the shows. Some kid had written in, saying that his folks were divorcing and life was pretty tough. Mr Schofield took the time to read this letter out and then spoke to the camera, saying: "I'm sorry you're having a bad time, but all I can say is that the pain will end."
Life Lesson:  Philip Schofield is always right. It's the Law.
I make light of it, but it was a Big Moment for me – and probably anyone else who was watching and in the same situation. It gave me a glimmer of hope; something to cling to when nothing seemed certain. Through Geekhood, I wanted to try and capture the carnage that goes on in a teenager's head during those times.
Geekhood also became about who you talk to when you're in need, hence the IM. We've all got one. But, as Archie proves, it's not always the best idea to only talk to yourself.
It also became about the escapist worlds you enter when you're trying to leave the bad stuff behind and Role Playing Games are the perfect Exit Sign. And then, of course: girls; fascinating, sophisticated, almost mythical beasts whose whims could transform your day from a Carnival of Joy to a Funeral Procession of Misery.
Archie and his IM will carry on in their own, wayward fashion and I can only hope you get as much from reading about his trials as I do writing about them.