What started out as a silly bit of banter between me, Jim from YA Yeah Yeah and Holly Smale is slowly gathering ground…
Author Top Trumps.
No – hang on; keep reading.
Just imagine being able to turn up at a festival and trade cards with your fellow authors or your audience. Imagine being able to play the game! Would Mallorie Blackman trump Philip Reeve? Could I take on the mighty Sarwat Chadda? And who's got the rare, shiny JK Rowling card? And what about YOUR card – how cool would that be?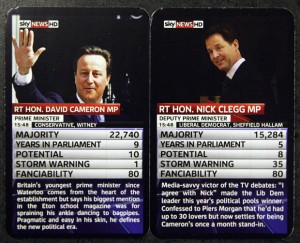 I haven't got the foggiest how to get this going, but it might be a good idea to start with you lot. So, in the first faltering steps of something a bit bonkers, I'm asking you guys to send me what you think the categories should be.
Diva points?
Frendliness?
Publishability?
What about hidden talents?
I don't know how far we'll get with this – but it might be fun to start, anyway.
Drop me a line with your suggestions for Author Top Trumps. Hell – Tweet them with the hastag #AuthorTopTrumps – maybe some crazy person with pots of cash is looking for an elitist product with no commercial value, whatsoever. At a later stage, we might get round to fielding ideas for Blogger Pokemon…
Andy